장하준 교수
님 하면 떠오르는
Kicking Away the Ladder
. William Easterly's
Elusive Quest for Growth
만큼 재밌게 읽었던 책이다. 2학년 2학기였나? 동아시아경제론 들었을 때 it was one of the suggested readings....which, obviously, I took happily as a suggestion, but nothing more... One year later, I found myself intrigued by the book, and felt sorry for not having read it earlier. It would've helped me tremendously with the course then, and maybe I would've been able to do better.
Anyhow, I had a really great opportunity to meet this author thru the ODI seminar. I'd been planning on buying his new book,
Bad Samaritans,
so I thought it would be a great to hear about his ideas in per
son
.
My first impression of him... he reminded me of 박인원 교수님! Maybe because it's economics, maybe the glasses, maybe the manner in which he speaks...But I think it's because he used an analogy using his 6 year old
son
. 박인원 교수님도 수업시간에 매번 아들/딸 얘기 하시면서 설명하셨던 것 같다- and I miss his lectures...
Anyhow, so to set out his argument of how
infant industries must be nurtured by government until they're ready to compete in global markets
, he used an anology with his 6 year old
son
, 진규. It costs a lot to buy him a new set of Pokemon cards, new generation toys, computer games, Xbox, whatever, and to pay for his academic experiences. It would be better if 진규 quits school, starts working, making $$, becoming competitive. And plus, it is legal to be working at age 6 in labor markets around the world, i.e. Bangledesh.
So
진규 is an "asset" owned by 교수님 that could be used to generate "income."
But because he's a good parent, he wants to bypass this short-term income-generating opportunitiy and invest in his education a bit more so that he can grow up to be a brain surgeon or a nuclear scientist, rather than a shoe-shine boy. If he were to quit school at age 6, he would not have the immediate capabilities to have a higher-profile profession.
This seemingly "outrageous" logic is similiar to that of free trade economists. Although opening economies into global competition may bring some fruits of international trade, they will
eventually lack capabilities to move further up the development ladder
. Just like a child needs education to build up his capabilities, developing countries, too, need time to master their capabilities.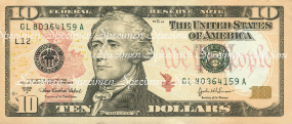 $10 protection...
Protectionism has been employed everywhere, especially in the US. The concept of infant industry was actually developed by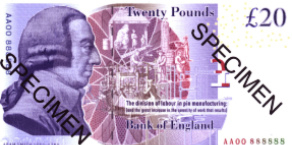 ...£20 free trade?
Alexander Hamilton (who's on the $10 bill, and the only non-ex-prez to be on dollar notes). His arguments in 1791 went against the mainstream "invisible hand" (1776) view by Adam Smith. (but
Alan Beattie
was witty in saying that Adam Smith features on the UK's
£
20 note, which is worth four times as much as the US $10....is this intended to say that trade is good for growth!!? lol)
So it's not wrong for DCs to be employing protective trade policies...
According to Dr Chang, in the so-called 'bad old days' of 1960s and 70s, DCs used tariffs and their growth rates were about 3% per annum. But in the 'brave new world' of 1980s and onwards, (intro to Stabs and SAPs of World Bank and the IMF...), they grew only at 2.2% p.a. For sub-Saharan Africa, it's even worse. It went from 1.6% (1960-80) growth to -0.3% (1980-2004).
But Chang's view is not anti-trade. He believes that without trade, there will be no technological advancement and little economic development. He mentioned that the choice is not between being either Hong Kong or North Korea. Rather, there needs to be a mixture of politices and interventions, constantly adapting to needs and capabilities. Free trade is not the only answer to trade. In Chang's words, "Trade is too important to be left to the free trade economists."

Beattie, talked more about Africa, and said that SSA's tendency to focus on tariffs is a mistake. In Africa, neither protection nor free trade has worked to lift the continent out of poverty. So it's not trade policy per se, but "getting the right thing to sell in the market" that matters.

In case of Nigeria, even though it's protected against shoe imports from China, its market is flooded with Chinese shoes because of smuggling across borders! So what's needed before all the talk about trade policy is getting the right infrastructure- electricity, roads, ports, and better investent climate. Interestingly enough, although Nigeria is one of the biggest oil market, entrepreneurs and investors complain about lack of electricty in the country. So what Beattie is saying is that
DCs need to invest in themselves, not protect themselves, to grow and become rich.
이런 세미나 참석하면서 매번 느끼는
답답함
...
What about politics
?
Whether it's trade policy, infra investment, product diversification or whatever...every suggestion involves the state and the local communities that are involved or left out. However, not all states all the same. There are different political regime types, different leaders, different morals, culture, customs that are region/country/or individual-specific, and it's so dangerous to generalize a one-size-fits-all formula. So in Africa where neither protection nor free trade has worked...who takes initiative of the next move???
Alan Beattie
,
Bad Samaritans
,
development
,
economic growth
,
free trade
,
Ha-Joon Chang
,
ODI
,
trade and growth
,
개발
,
경제
,
나쁜 사마리아인들
,
장하준 교수