♪

Mad World

-Gary Jules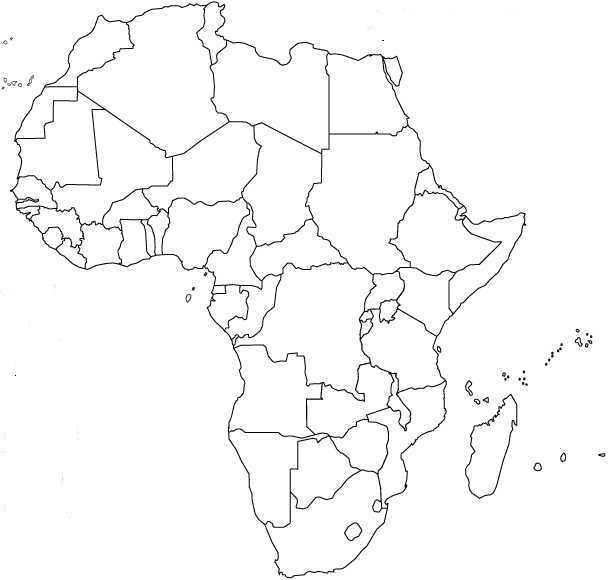 with what words would you fill this map?
I don't like to make judgments about places that I've bever been for myself. I don't like using "stylized facts" to justify something that I don't really believe in. and I don't like how some people believe only what they see and hear from others and the media. I'm sure a lot of people have the experience of having some predetermined opinions about a particular country, and then having to revoke/change that thought after having been there.
The popular discourse on Africa often revolves around economic underdevelopment, political turmoil, humanitarian crisis, religious voodoo, etc etc: themes, which I think, often overshadow the dynamism and potentials that underlie the vast continent. Seems like
Binyavanga Wainaina
thinks so as well. He writes with great panache and wit, but I can read the sorrow between his lines. It shouldn't be about pity or charity that drives people's attention to Africa (though that has been much of its PR in the international community...), but rather a desire to learn genuinely more about its internal dynamics, culture, (indigenous) ideas and values that is often pitted against the "western" or "modern" norms.
*the following article is written by Binyavanga Wainaina (source: Granta 1992)
Take time to read ¶ by ¶, & take more time to think about message...


How to Write About Africa
Some tips: sunsets and starvation are good
Always use the word 'Africa or 'Darkness' or 'Safari' in your title. Subtitles may include the words 'Zanzibar', 'Masai', 'Zulu', 'Zambezi', 'Congo', 'Nile', 'Big', 'Sky, 'Shadow', 'Drum', 'Sun' or 'Bygone'. Also useful are words such as 'Guerrillas', 'Timeless', 'Primordial' and 'Tribal'. Note that 'People' means Africans who are not black, while 'The People' means black Africans.
Never have a picture of a well-adjusted African on the cover of your book, or in it, unless that African has won the Nobel Prize. An AK-47, prominent ribs, naked breasts: use these. If you must include an African, make sure you get one in Masai or Zulu or Dogon dress.

In your text, treat Africa as if it were one country. It is hot and dusty with rolling grasslands and huge herds of animals and tall, thin people who are starving. Or it is hot and steamy with very short people who eat primates. Don't get bogged down with precise descriptions. Africa is big: fifty-four countries, 900 million people who are too busy starving and dying and warring and emigrating to read your book. The continent is full of deserts, jungles, highlands, savannahs and many other things, but your reader doesn't care about all that, so keep your descriptions romantic and evocative and unparticular.


Make sure you show how Africans have music and rhythm deep in their souls, and eat things no other humans eat. Do not mention rice and beef and wheat; monkey-brain is an African's cuisine of choice, along with goat, snake, worms and grubs and all manner of game meat. Make sure you show that you are able to eat such food without flinching, and describe how you learn to enjoy it — because you care.
Taboo subjects: ordinary domestic scenes, love between Africans (unless a death is involved), references to African writers or intellectuals, mention of school-going children who are not suffering from yaws or Ebola fever or female genital mutilation.

also check out his writing on the July/07 issue of
Vanity Fair

:
Generation Kenya
Rick Strange/Photoshot.
The media often treat Africa's 53 countries as a vast, hopeless mass. That hurts, writes one of Kenya's young literary stars, who has a deeply individual tale of his country's stunning political change and the emergence of "the Equity Generation."